SEPTIC SYSTEM INSTALLATION COMPANY
Looking for new or replacement septic system installation? From paperwork to construction, Byers Septic Service is a septic tank installation company with the experience, expertise, and equipment to install septic tanks, drainfields, and alternative waste treatment technology systems.
New & Replacement
Conventional & Alternative
We Take Care of Everything
Drain Field Installation
Same Day Service
In most cases
Please fill out the form below and we will contact you shortly.
Our Septic Tank Installation Services
As a third-generation business operating since 1959, Byers Septic Tank Service is an expert in planning and installing septic tanks and entire septic systems. The work we do, we do well, with respect for our customers and their property. If you are looking for a septic tank installation company for your residential or commercial property, we have the experience, expertise, and resources to do everything from studies and permits through to installation. Contact us to get started.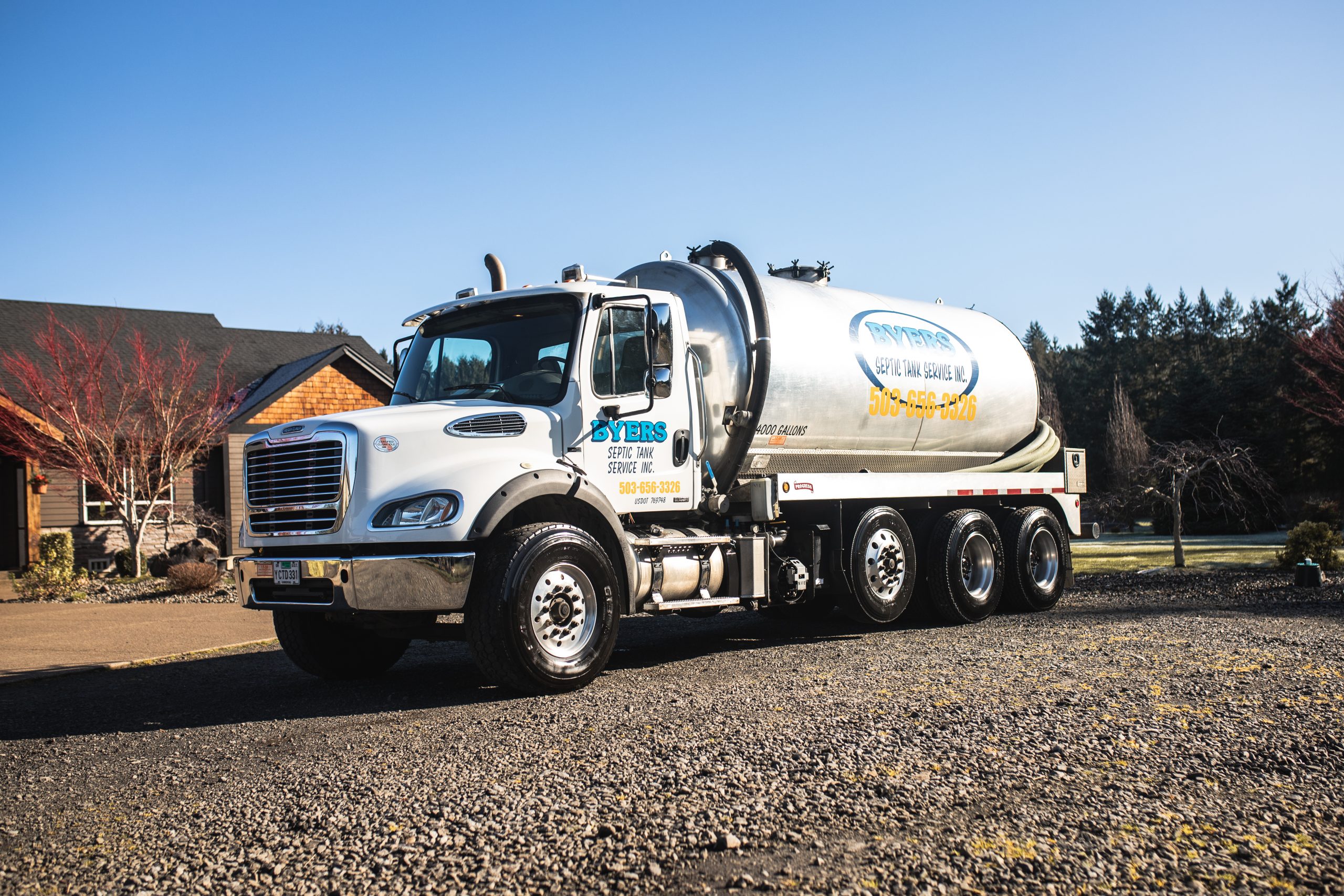 The Process of Septic System Installation
1. Soil Feasibility Study
County government regulates the installation of septic systems, and the first thing they require is a soil feasibility study. In this process, a test pit is dug up and an official comes to evaluate the suitability of the soil for absorbing and filtering effluent, or liquid waste. The quality of the soil will determine in large part the size of drainfield required for the septic system to work appropriately. When you contract with Byers Septic Tank Service, we take care of ordering this study and working with the county to build a system which fits the soil.
Our experienced team of septic system pros uses the results of the soil analysis along with household data and equipment specs to develop plans for a system that will work great for you – whether that's a conventional system or an advanced treatment system. We prepare the design and submit plans to the county for approval.
Working with the county, we manage any difficulties with the plans we have developed to ensure that the project obtains all necessary permits and can proceed legally.
Working through our long-time contacts in the septic tank industry, we arrange for the delivery of the materials needed to install your septic tank and drainfield.
5. Septic System Installation
Finally, we dig out and install the septic tank and drainfield and connect them to each other and to the house. Your septic system is ready to go!
Conventional
As the name implies, this is our standard system which is less expensive and works perfectly if the soil conditions are right for a full-sized drainfield, and there is the space for it.
Alterative Treatment Technology
If space is lacking for a conventional septic system we can install an alternative: an Orenco AdvanTex treatment system. This product acts like a sewage treatment plant for an individual residence. It cleans sewage on-site to the point where it can be released into the soil. While the initial installation cost is greater than a standard system, alternative treatment technology has a much smaller footprint and may be installed closer to the water table. Learn more about how the system works by watching the video below.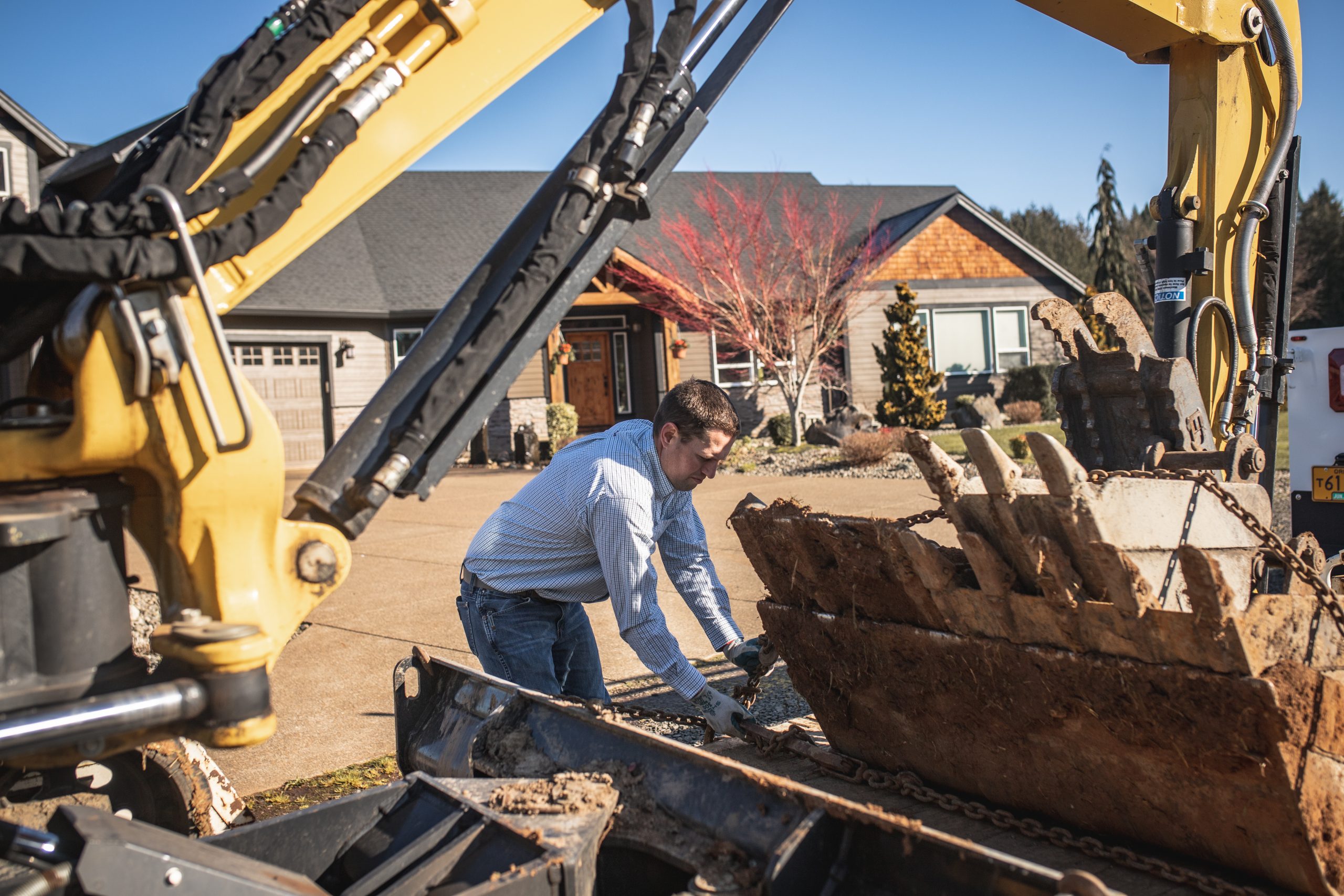 Byers Septic Tank Service uses Orenco AdvanTex Wastewater Treatment System Technology
Varieties of Material for Septic Tank Installations
Durable Plastic
Plastic is usually easier to install than concrete. Plastic tanks are also less prone to cracking as they have a bit of flex to them, and are completely resistant to corrosion and erosion, meaning they can last a long time.
Precast Concrete
Concrete is extremely long-lasting and can be installed anywhere due to its inherent watertight properties. On the other hand, concrete is less resistant to corrosion than plastic or fiberglass.
Fiberglass
Fiberglass is a very durable and lightweight material, and is the most expensive option. Fiberglass septic tanks are lightweight and rigid and will not corrode, making them a relatively easy-to-install option for many applications.
Septic Tank Replacements
We don't just do new installs! If you're looking to get a new septic tank installed in place of an old one (we particularly find ourselves replacing old steel septic tanks), we can help. From a new tank all the way to the drain field installation, we take care of permits, planning, installation, and troubleshooting. Get in touch today to schedule a consultation, and learn more at our Septic System Repair & Replacement page.
Commercial Holding Tank Planning and Installation
Certain commercial properties may not be able to access sewer services, and also not have a lot of room for a full-blown septic system. Holding tanks are the answer! These tanks simply hold waste until it can be pumped out and hauled away for treatment. If this is your situation, get in touch to learn how we can help.
Frequently Asked Questions about Septic Tank Installation and Drain Field Installation
A septic system stores solid waste for later removal and transport to a waste treatment plant, and allows liquid waste to be released safely into the ground. A conventional septic system has two main parts: septic tank and drainfield. The septic tank filters out solid waste and allows it to break down safely until it can be pumped out, while passing on liquid waste to the drainfield, which distributes it into the soil to be filtered and reused.
Costs depend on a variety of factors such as size of the system, soil conditions, and material of the tank, so unfortunately, we cannot give a number here. Give us a call for a consultation about your unique situation.
There are a variety of alternatives on the market today. Our preferred system is the Orenco Advantex Wastewater Treatment System.
Click here to learn more
.
It takes about a week from groundbreaking to initial operation, and more if you include the process of developing plans and acquiring permits.
The county the job site is located in will regulate septic systems. An initial soil feasibility test must be conducted before a system can be designed and all other permits obtained. When we install a septic system, we take care of all the testing and permits so you don't have to deal with anything.
This depends primarily on the number of bedrooms in your household. The more people in the house, the larger the tank and drainfield.