Tigard Septic Tank Services
Same Day Service
In most cases
Please fill out the form below and we will contact you shortly.
Byers Tigard

Septic Tank Services
Looking for a Tigard septic tank services team that takes pride in what they do and how they do it? As a third-generation business operating in Tigard, Oregon since 1959, Byers Septic Tank Service is just that. The work we do, we do well, with respect for our customers and their property. When you need emergency care or regular Tigard septic tank services, contact the team at Byers.
For prompt assistance, give us a call today.
Tigard Septic Tank Pumping Services
When the team from Byers Septic Tank Service arrives to pump out your septic tank, the first thing they will do is locate the access lid to your tank (usually a plastic, fiberglass, or concrete cover). Then the pumping begins, which tends to last about half an hour, depending on tank size. Pumping may also involve some cleaning of the septic tank, especially where larger amounts of grease and solid waste are encountered.
After pumping, we get everything back to looking how it was before we arrived and dispose of the waste at the county wastewater treatment center. This whole process usually takes less than an hour on-site, unless there are complicating factors.
Are you ready to get your Tigard septic tank pumped? Get in touch to schedule a time for our trucks to come to you.
Tigard Septic Tank Inspection Service
Are you concerned that your septic tank may be in need to repair or replacement? Don't make plans until you have had your system thoroughly inspected by a qualified professional. If you have an emergency situation, we will do everything we can to be with you on the same day. Give us a call to schedule septic tank services in Tigard now.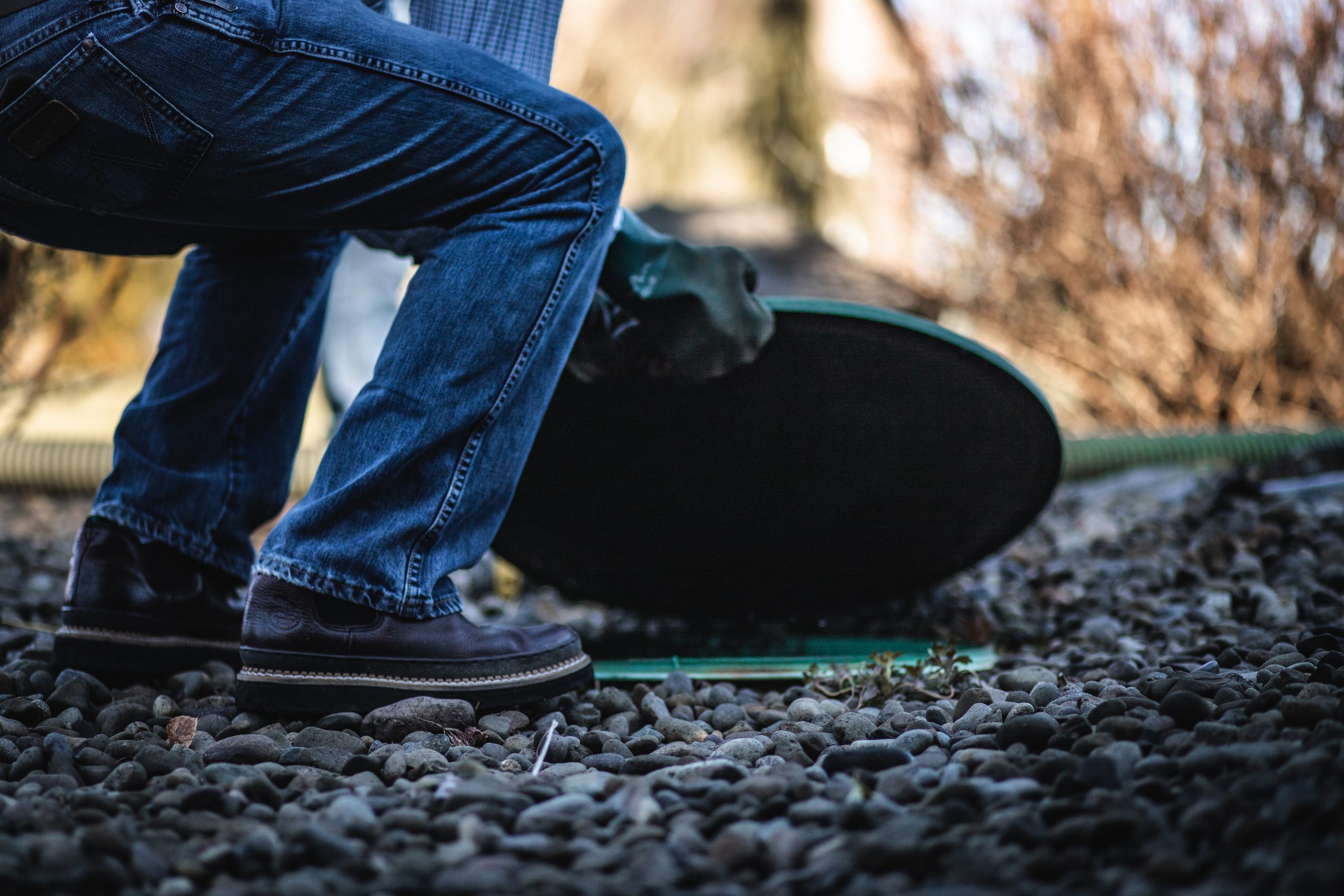 Emergency Septic Tank Services – Residential and Commercial
How can you know if your septic system is in need of attention? Here are some signs to look for. Unfortunately, when many of these things happen, you won't have much time to get your septic tank serviced, so keep our number handy!
Visual Inspection
In the case of Tigard septic systems with easy-to-access tanks, owners can go check the level of sewage in the tank themselves. Of course, this is not very helpful if you don't know what it looks like for your septic tank to be "full."
Backed-Up or Gurgling Drains
This is a commonly occurring sign of a backed up septic system. When plunging doesn't seem to help, it is entirely possible that the backup in your toilet is caused not by the toilet itself but by the septic tank needing service.
Alarms
Many systems are equipped with alarms, whose function is to indicate a mechanical failure in the tank. If you hear an alarm on your septic tank going off, it may mean that you have had a pump system failure. Give us a call quickly to get your system examined.
Septic System Repair & Replacement
If you have a septic system to handle sewage disposal, there will be times repair or even replacement will be needed. For quick evaluation and help, give us a call today. Or click below to learn more about what's involved in keeping your septic system operating at its best.
Tigard Septic Tank Installation
Byers Septic Tank Service is an expert in planning and installing septic tanks and entire septic systems for our Tigard, Oregon clients. If you are looking to build a new septic system on your residential or commercial property, we have the experience, expertise, and resources to do everything from studies and permits through to installation. Contact us to get started.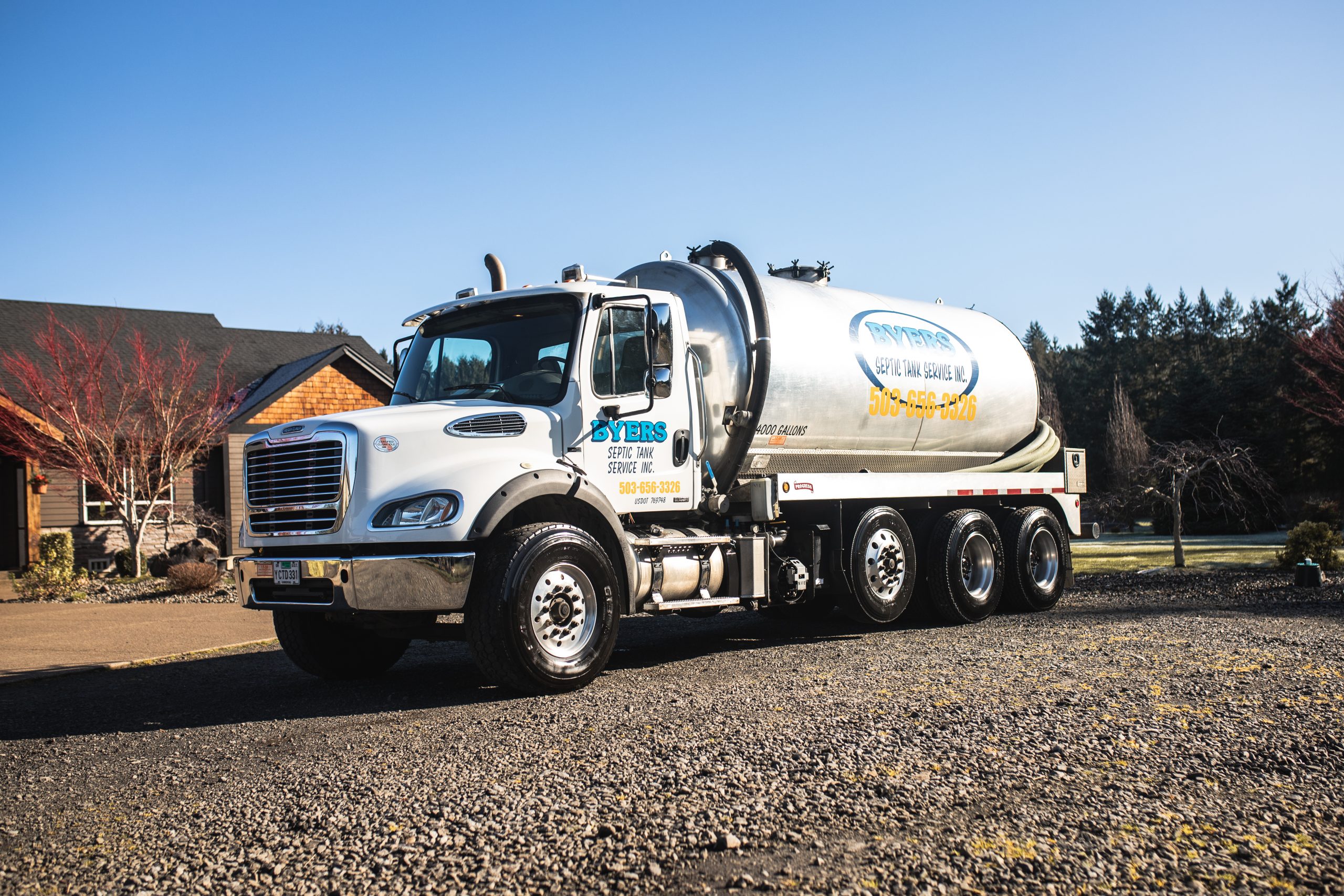 Same-Day Emergency Septic System Services for the Tigard Area
Like with all home emergencies, septic systems don't schedule their breakdowns at convenient times. If you have a septic system emergency in Tigard, don't hesitate to give us a call. We promise to get to you as soon as we can – usually within a day.
Frequently Asked Questions about Byers Tigard Septic Tank Services
How long does it take to install a new septic tank?
It takes about a week from groundbreaking to initial operation, and more if you include the process of developing plans and acquiring permits.
What permits are required to install a new septic tank?
The county the job site is located in will regulate septic systems. An initial soil feasibility test must be conducted before a system can be designed and all other permits obtained. When we install a septic system, we take care of all the testing and permits so you don't have to deal with anything.
What size septic tank will I need?
This depends primarily on the number of bedrooms in your household. The more people in the house, the larger the tank and drainfield.
How much does a septic system installation cost?
Costs depend on a variety of factors such as size of the system, soil conditions, and material of the tank, so unfortunately, we cannot give a number here. Give us a call for a consultation about your unique situation.
What is a septic system and how does it work?
A septic system stores solid waste for later removal and transport to a waste treatment plant, and allows liquid waste to be released safely into the ground. A conventional septic system has two main parts: septic tank and drainfield. The septic tank filters out solid waste and allows it to break down safely until it can be pumped out, while passing on liquid waste to the drainfield, which distributes it into the soil to be filtered and reused.
Are there alternatives to septic systems?
There are a variety of alternatives on the market today. Our preferred system is the Orenco Advantex Wastewater Treatment System.
Click here to learn more
.
Where do you take the waste you pump from a septic tank?
Everything we pump goes to the county sewage treatment plant, same as it would if your house or commercial property were connected directly to the public sewer. Currently, we are applying for a permit to recycle the material we pump by treating it and using it as agricultural fertilizer, which would be a pretty exciting development.
How often should a septic tank be pumped?
The range on this service can be 1-30 years, depending on the number of people making use of the septic system and the size of the septic tank. See the information above for more details, or get in touch.
Do septic tank additives reduce the need for septic tank pumping?
Not at all. They might somewhat speed the decay of solid waste, but that will not substitute for regular pumping.
How long does it take to pump a septic tank from start to finish?
Generally about an hour, but this depends on factors such as ease of access, volume of the tank, and how long it's been since the tank has been pumped last.
Byers Septic Service is a Tigard Septic Tank Services Company