Rhododendron Septic Tank Services
Whether you're in the market for septic tank pumping, septic system repair, or septic system installation in Rhododendron, Oregon, we can help.
Septic Tank Pumping
Septic System Repair
Septic System Installation
Same Day Service
In most cases
Please fill out the form below and we will contact you shortly.
Byers Rhododendron, Oregon

Septic Tank Services
Hire a Rhododendron septic tank services team that takes pride in what they do and how they do it. As a third-generation business operating in Rhododendron, Oregon since 1959, Byers Septic Tank Service is just that. The work we do, we do well, with respect for our customers and their property.
For prompt assistance, give us a call today.
We have four primary services we provide for our Rhododendron customers.
Rhododendron Septic Tank Pumping Services
When the team from Byers Septic Tank Service arrives to pump out your septic tank, the first thing they will do is locate the access lid to your tank (usually a plastic, fiberglass, or concrete cover). Then the pumping begins, which tends to last about half an hour, depending on tank size. Pumping may also involve some cleaning of the septic tank, especially where larger amounts of grease and solid waste are encountered.
After pumping, we get everything back to looking how it was before we arrived and dispose of the waste at the county wastewater treatment center. This whole process usually takes less than an hour on-site, unless there are complicating factors.
Are you ready to get your Rhododendron septic tank pumped? Get in touch to schedule a time for our trucks to come to you.
How Rhododendron Septic Tank Services Help Avoid the Consequences of Failing to Pump a Septic Tank
When a septic tank is not pumped out regularly, eventually solid waste ends up filling the tank, making it impossible for the natural decay processes to take place and pushing solid waste down the system where it's not meant to be. This not only can cause significant damage to the drainfield components, but also makes septic tank pumping significantly more difficult. A septic tank pump truck works best when the ratio of solid to liquid waste is 30% or less – more than this, and additional measures may be required to get the tank fully clean.
This means that the consequences of failing to pump a septic tank on time are usually more money out of your pocket, and perhaps a gross mess. Dealing with a septic tank situation may be the last thing you're wanting to spend time on right now, but it's not something you can afford to put off.
Our team tries, if possible, to be at your property within a day for septic tank pumping. If you have an emergency situation, we will do everything we can to be there on the same day. Give us a call to schedule septic tank services in Rhododendron now.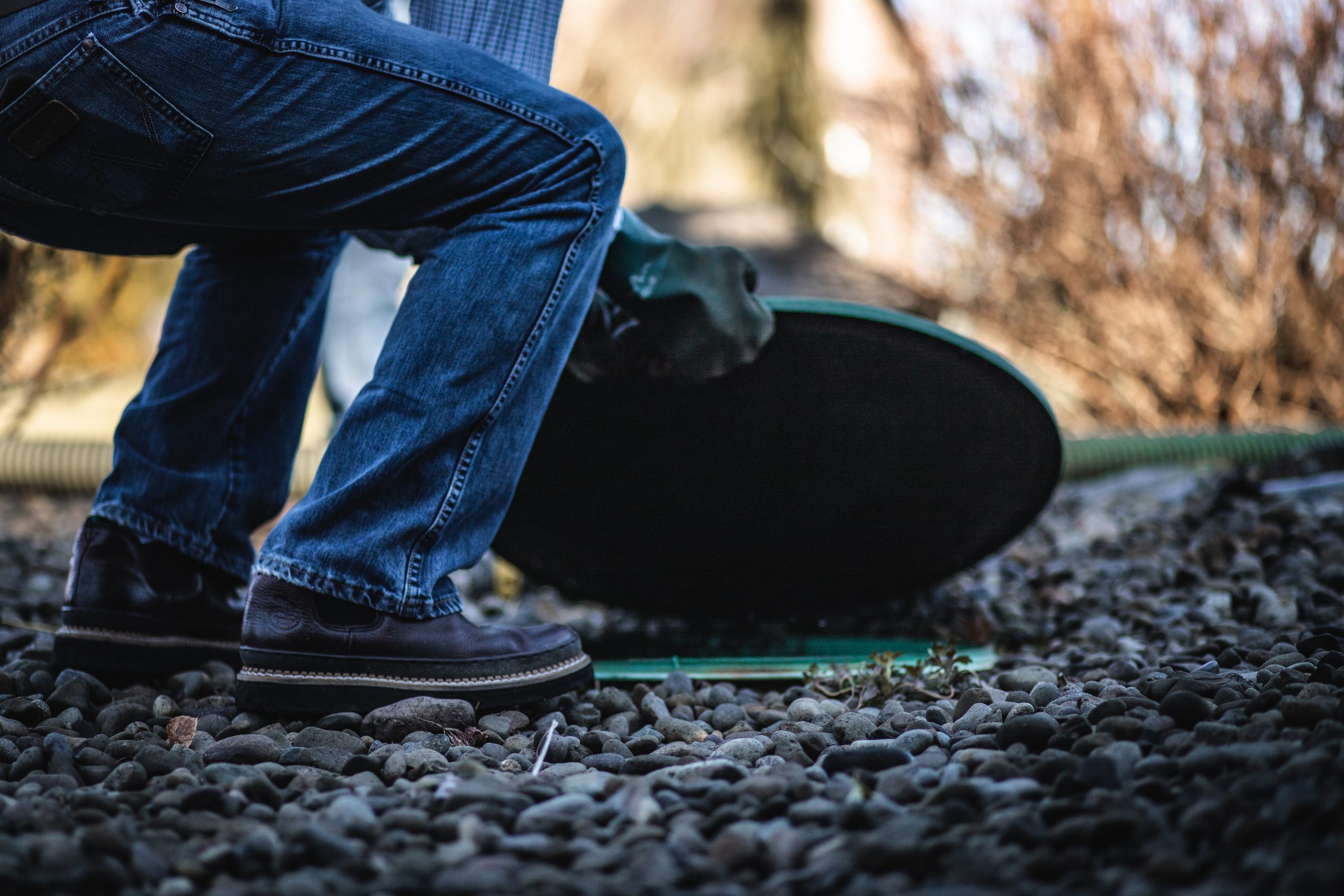 How to Tell When Your Rhododendron Septic Tank Needs to be Pumped
The easiest and wisest course of action is to use a table such as the one below to regularly schedule the pumping of your septic tank.
Septic Tank Pumping Frequency in Years
Household Size
Number of Occupants
Septic Tank Pumping Frequency (Years)
| | | | | | | | | | | |
| --- | --- | --- | --- | --- | --- | --- | --- | --- | --- | --- |
| 500 | 5.8 | 2.6 | 1.5 | 1.0 | 0.7 | 0.4 | 0.3 | 0.2 | 0.1 | – |
| 1000 | 12.4 | 5.9 | 3.7 | 2.6 | 2.0 | 1.5 | 1.2 | 1.0 | 0.8 | 0.7 |
| 1500 | 18.9 | 9.1 | 5.9 | 4.2 | 3.3 | 2.6 | 2.1 | 1.8 | 1.5 | 1.3 |
| 2000 | 25.4 | 12.4 | 8.0 | 5.9 | 4.5 | 3.7 | 3.1 | 2.6 | 2.2 | 2.0 |
However, if tables aren't your thing, there are other, less convenient ways to tell that your septic tank needs to be pumped. Unfortunately, when many of these things happen, you won't have much time to get your septic tank serviced, so keep our number handy!
Visual Inspection
In the case of septic systems with easy-to-access septic tanks, brave homeowners can go check the level of sewage in the tank themselves. Of course, this is not very helpful if you don't know what it looks like for your septic tank to be "full." We may be able to help you perform a successful visual inspection if you give us a call.
Backed-Up or Gurgling Drains
This is a commonly occurring sign of a backed up septic system. When plunging doesn't seem to help, it is entirely possible that the backup in your toilet is caused not by the toilet itself but by the septic tank needing service. If this is the case for you, call us today!
Alarms
Many systems are equipped with alarms, whose function is to indicate a mechanical failure in the tank. If you hear an alarm on your septic tank going off, it may mean that you have had a pump system failure.
Rhododendron Commercial Holding Tank Pumping
If you own a commercial property in Rhododendron which is not connected to sewer services due to location and does not have a septic system due to space limitations, you likely have a holding tank for waste. Good news: our pump trucks are fully equipped to handle your waste removal needs! Get in touch today to arrange service.
Septic System Repair & Replacement
If you have a septic system to handle sewage disposal, there will be times repair or even replacement will be needed. For quick evaluation and help, give us a call today.
Common Causes for Rhododendron Septic System Repair or Replacement
The primary regular need for Rhododendron septic system services is pumping – a tank which is overdue will often show itself in backed-up plumbing and gurgling sounds. But there are other situations which require maintenance to keep your septic system operating like it should, and can even result in symptoms like those of an overfull septic tank.
Leaks
Tank leaks are a major problem, whether they result in waste leaking out of the tank or groundwater seeping in through cracks (as can be the case with older concrete septic tanks), or rusted-out portions (as occurs frequently with old steel septic tanks). Unfortunately, leaks in a septic tank cannot be repaired in most cases – the whole tank needs to be removed and replaced. Contact us to learn more about how to determine if a leak is present, and what you can do about it.
Roots or Clogs
Tree roots and clogs can cause backups in sewer lines and drainfield pipes. Once we have detected the problem, our team will attempt to clean out the damaged portion of pipe and replace it if necessary. To avoid further damage, we can also recommend a tree service to remove offending plants.
Float Repair
If you have a septic system with a pump, there will be one or more floats in a septic tank which control various aspects of the tank's operations. When a float fails, an alarm will be triggered so it can be fixed and further damage can be avoided. Septic tank floats can be replaced as a separate component.
If you're concerned your septic system may be affected by one or more of these failures, let us help.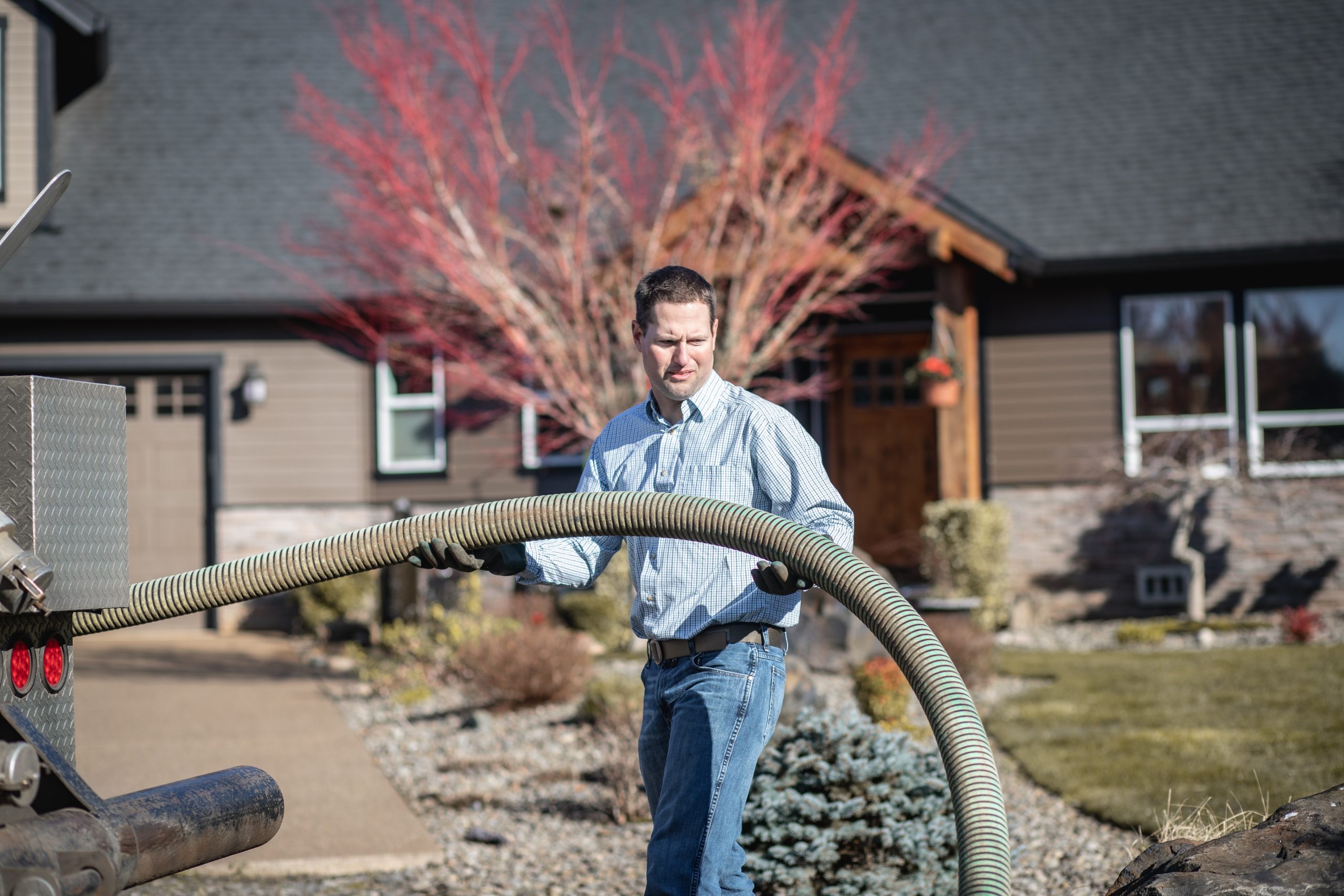 Rhododendron Septic Tank Replacement
Septic tanks are designed to last for decades, but certainly not forever. There will come a time at which every septic tank will need replacing. Particularly at risk are old-style steel septic tanks, which are prone to developing rust holes.
We can install a replacement plastic, concrete, or fiberglass conventional septic tank in a variety of volumes to meet your needs. Often, septic tank replacement does not require drainfield replacement, keeping costs down. There are also great alternative wastewater treatment products we can guide you through. Get in touch with us today to schedule an inspection and learn about your options.
Drainfield Repair & Replacement
If a drainfield has been misused or mismanaged, or is simply at the end of its useful life, replacement is often the only option. Our crew can install a whole new drainfield to get your household back to normal.
Repairing Other Septic System Components
There are several other septic system components that we are happy to provide repair and replacement services for. Here are some of the more common situations:
A riser is a covered tube that allows for easy access into the tank itself. While some risers are concrete, many are PVC and fiberglass – you can recognize them by their dark green lid. We often recommend installing a riser for any of our customers with older, completely buried septic tanks.
For Rhododendron septic systems which cannot rely on gravity to move liquid waste from the septic tank to the drainfield, a pump is required. If this pump goes out, the septic tank will fill and cause backup. Our Rhododendron septic tank services team can replace any dead or dying septic pump.
Alarms going off on a septic tank don't mean "I'm full!" Rather, they are indicators of a component malfunction in the tank. But don't spend the time worrying about what's causing the alarm – give us a call so we can diagnose and repair whatever's at the root of the problem and get it fixed.
Rhododendron Septic Tank Installation
Byers Septic Tank Service is an expert in planning and installing septic tanks and entire septic systems for our Rhododendron, Oregon clients. If you are looking to build a new septic system on your residential or commercial property, we have the experience, expertise, and resources to do everything from studies and permits through to installation. Contact us to get started.
The Process of Septic System Installation
If you're in the market for a new septic system in Rhododendron, you will likely be interested in how the process works, and how we help from start to finish. Here it is:
1. Soil Feasibility Study
County government regulates the installation of septic systems, and the first thing they require is a soil feasibility study. In this process, a test pit is dug up and an official comes to evaluate the suitability of the soil for absorbing and filtering effluent, or liquid waste. The quality of the soil will determine in large part the size of drainfield required for the septic system to work appropriately. When you contract with Byers Septic Tank Service, we take care of ordering this study and working with the county to build a system which fits the soil.
Our experienced team of septic system pros uses the results of the soil analysis along with household data and equipment specs to develop plans for a system that will work great for you – whether that's a conventional system or an advanced treatment system. We prepare the design and submit plans to the county for approval.
Working with the county, we manage any difficulties with the plans we have developed to ensure that the project obtains all necessary permits and can proceed legally.
Working through our long-time contacts in the septic tank industry, we arrange for the delivery of the materials needed to install your septic tank and drainfield.
5. Septic System Installation
Finally, we dig out and install the septic tank and drainfield and connect them to each other and to the house. Your system is ready to go!
Contact us today to get started
Types of Septic System Available in Rhododendron
There are two varieties of septic system that we can install for our Rhododendron, Oregon customers.
Conventional
As the name implies, this is our standard system which is less expensive and works perfectly if the soil conditions are right for a full-sized drainfield, and there is the space for it.
Alterative Treatment Technology
If space is lacking for a conventional septic system we can install an alternative: an Orenco AdvanTex treatment system. This product acts like a sewage treatment plant for an individual residence. It cleans sewage on-site to the point where it can be released into the soil. While the initial installation cost is greater than a standard system, alternative treatment technology has a much smaller footprint and may be installed closer to the water table. Learn more about how the system works by watching the video below.
Byers Septic Tank Service uses Orenco AdvanTex Wastewater Treatment System Technology
Commercial Holding Tank Planning and Installation
Certain commercial properties may not be able to access sewer services, and also not have a lot of room for a full-blown septic system. Holding tanks are the answer! These tanks simply hold waste until it can be pumped out and hauled away for treatment. If this is your situation, get in touch to learn how we can help.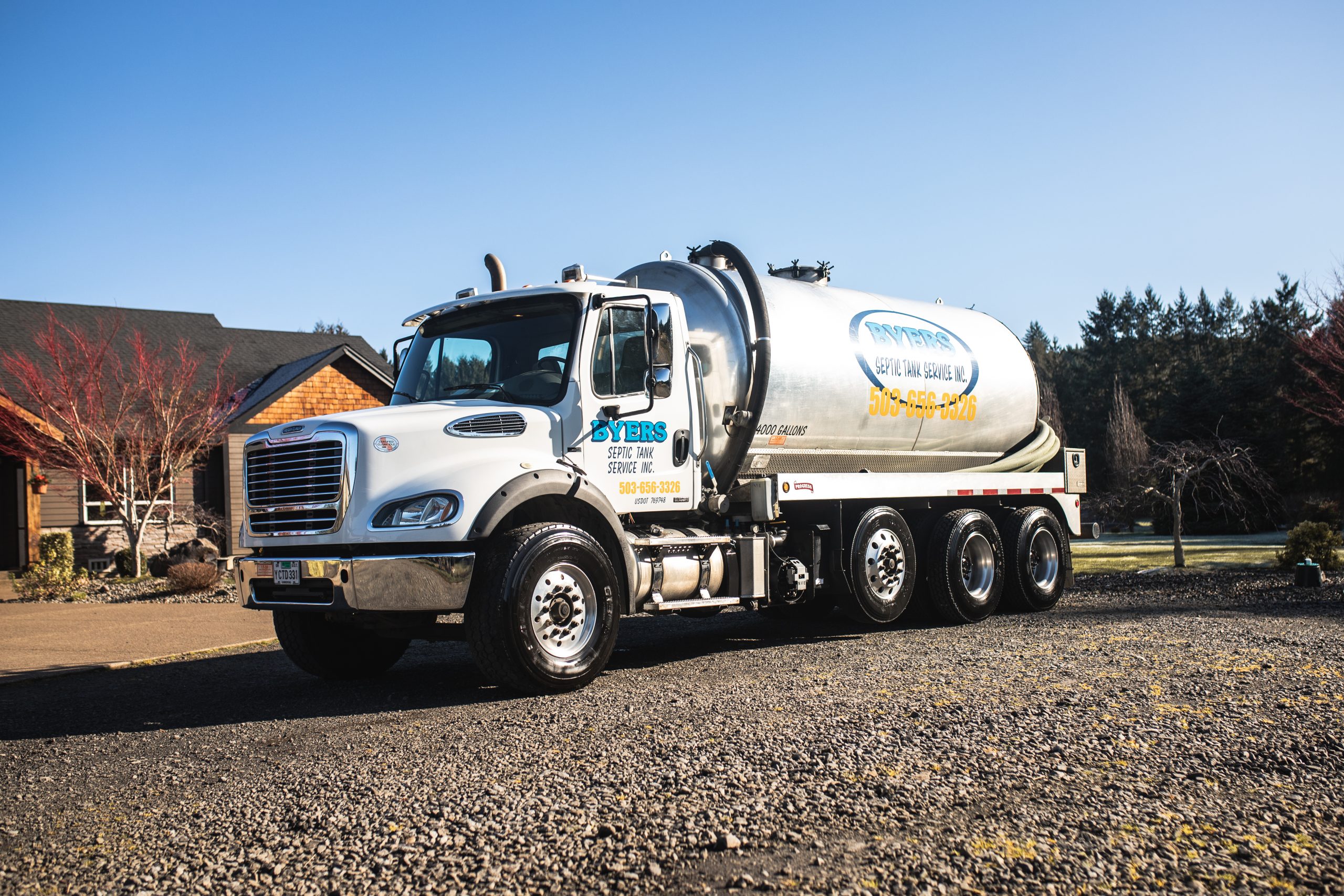 Same-Day Emergency Septic System Services for the Rhododendron Area
Like with all home emergencies, septic systems don't schedule their breakdowns at convenient times. If you have a septic system emergency in Rhododendron, don't hesitate to give us a call. We promise to get to you as soon as we can – usually within a day.
Frequently Asked Questions about Byers Rhododendron Septic Tank Services
How long does it take to install a new septic tank?
It takes about a week from groundbreaking to initial operation, and more if you include the process of developing plans and acquiring permits.
What permits are required to install a new septic tank?
The county the job site is located in will regulate septic systems. An initial soil feasibility test must be conducted before a system can be designed and all other permits obtained. When we install a septic system, we take care of all the testing and permits so you don't have to deal with anything.
What size septic tank will I need?
This depends primarily on the number of bedrooms in your household. The more people in the house, the larger the tank and drainfield.
How much does a septic system installation cost?
Costs depend on a variety of factors such as size of the system, soil conditions, and material of the tank, so unfortunately, we cannot give a number here. Give us a call for a consultation about your unique situation.
What is a septic system and how does it work?
A septic system stores solid waste for later removal and transport to a waste treatment plant, and allows liquid waste to be released safely into the ground. A conventional septic system has two main parts: septic tank and drainfield. The septic tank filters out solid waste and allows it to break down safely until it can be pumped out, while passing on liquid waste to the drainfield, which distributes it into the soil to be filtered and reused.
Are there alternatives to septic systems?
There are a variety of alternatives on the market today. Our preferred system is the Orenco Advantex Wastewater Treatment System.
Click here to learn more
.
Where do you take the waste you pump from a septic tank?
Everything we pump goes to the county sewage treatment plant, same as it would if your house or commercial property were connected directly to the public sewer. Currently, we are applying for a permit to recycle the material we pump by treating it and using it as agricultural fertilizer, which would be a pretty exciting development.
How often should a septic tank be pumped?
The range on this service can be 1-30 years, depending on the number of people making use of the septic system and the size of the septic tank. See the information above for more details, or get in touch.
Do septic tank additives reduce the need for septic tank pumping?
Not at all. They might somewhat speed the decay of solid waste, but that will not substitute for regular pumping.
How long does it take to pump a septic tank from start to finish?
Generally about an hour, but this depends on factors such as ease of access, volume of the tank, and how long it's been since the tank has been pumped last.